I've been running low on existing adapter boards as they've been selling quite well. Since I had to reorder these, it made sense to expand the order to include alongside some of the other adapter types I've been working on recently.
I put aside the JAMMA TestCard and the Minigun work for a couple of days to finish up the design for these adapters, and while they're in production, the plan was to  switch back and work on the code for the TestCard and the Minigun again.
This type of efficiency is so unlike me.
So now, while I wait for the order to arrive, I am back working on the TestCard again. Given how the libraries I'm trying to write will be reused in later projects, the TestCard makes it easy to test the code before it gets reused elsewhere.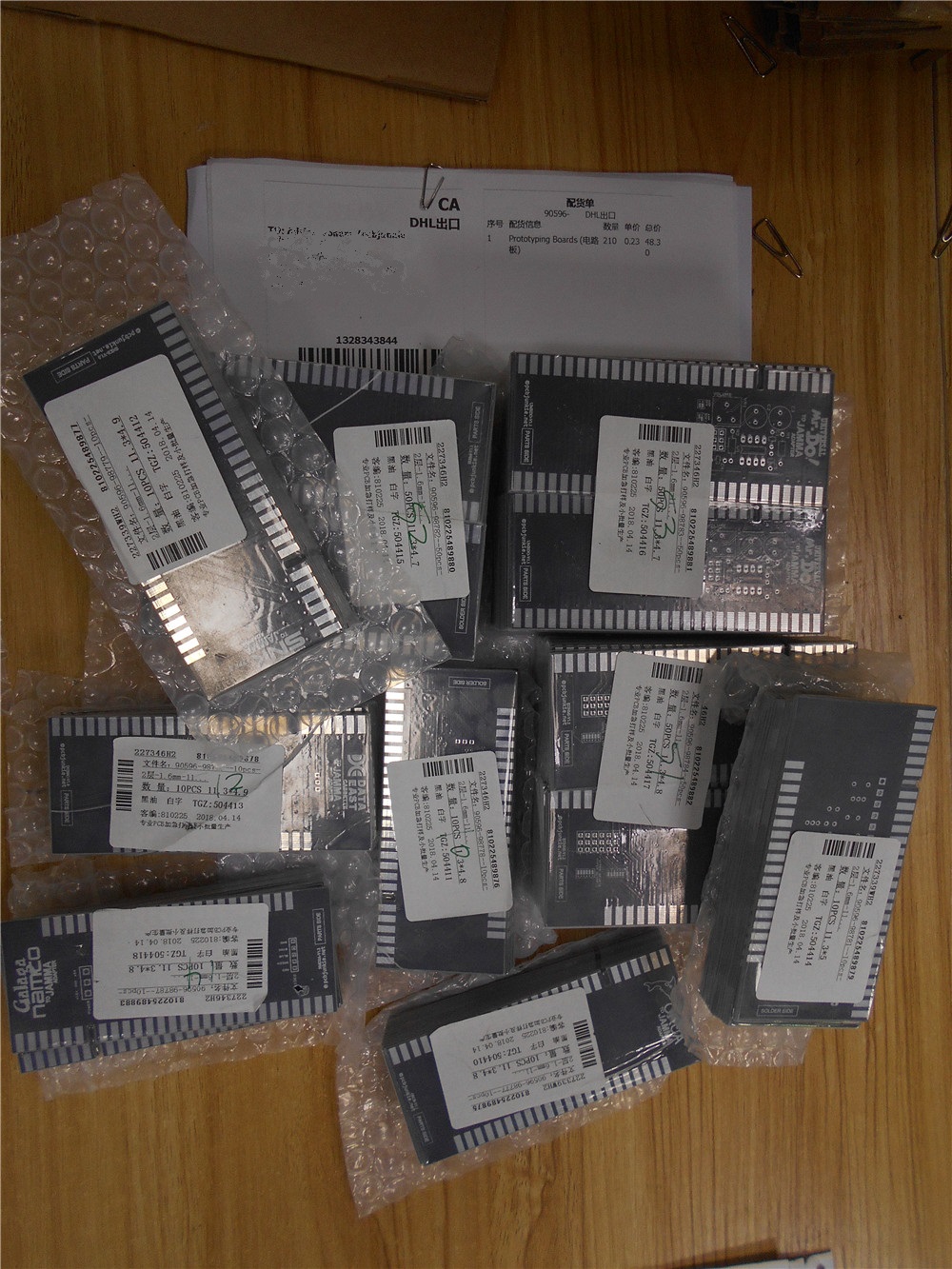 The new adapters have now left the fabrication process and are on the way. In the new batch we have:
This unique adapter will not only convert the composite video to JAMMA compatible RGB video but also create a virtual color overlay that simulates the original cellophane overlay that was used in the original arcade machines. This adapter is for the Midway board variant. I'll create a Taito version as well as soon as I get my hands on a Taito SI board.
For orca boards like Espial, Vastar, Zodiack and others. This is a redo of an adapter that I made in the last batch which had the pin order swapped left to right. That's what I get for not double checking my design!
For Data East boards that used the cassette system pinout. This includes games like BurgerTime and Bump'n'Jump on either the cassette type boards or the plain rom based pcbs.
For boards like ASO, Alpha Mission, Gladiator and others. This is a different pinout used by the Rockola games and in Vanguard.
For the awseome and quite popular bootleg of Namco's Galaga game. I believe there are a lot more of these than the original Galaga pcbs. At least I keep running into those a lot more.
There are also some redesigned adapters in this batch like the Namco Galaga adapter what just simply hell to assemble. I sold as many of the original Galaga adapters to break even, and then immediately redesigned it.
I think the new version will be quite a bit better, at least I'm a lot more happy with it.
With this batch of adapters, I believe this puts the total number of adapter designs to around 35. Not bad for about a year of spare time work.
With every new batch, I'm moving closer and closer to the end of this project, and at this point the next adapters in my sights are going to be for the Nintendo Playchoice systems and Exidy boards.
However, if you have any JAMMA adapter requests that you would like me to make, you can message me through here, and if the board is relatively popular I will likely put in on my list.
I now need to update the JAMMA Adapter project page which is quite out of date. For a more recent list, please check my Ebay listings here.