This is a battery operated signal generator / tester for arcade monitor inside a cabinet. It is small and light so can be taken on the road or used in your home. Supports the three most common arcade video modes virtually JAMMA compatible arcade cabinets out there. The video tester has a JAMMA edge connector for a simple plug and play operation and can be operated from the internal battery or cabinet's power supply. Tests can also be selected by using the buttons on the control panel.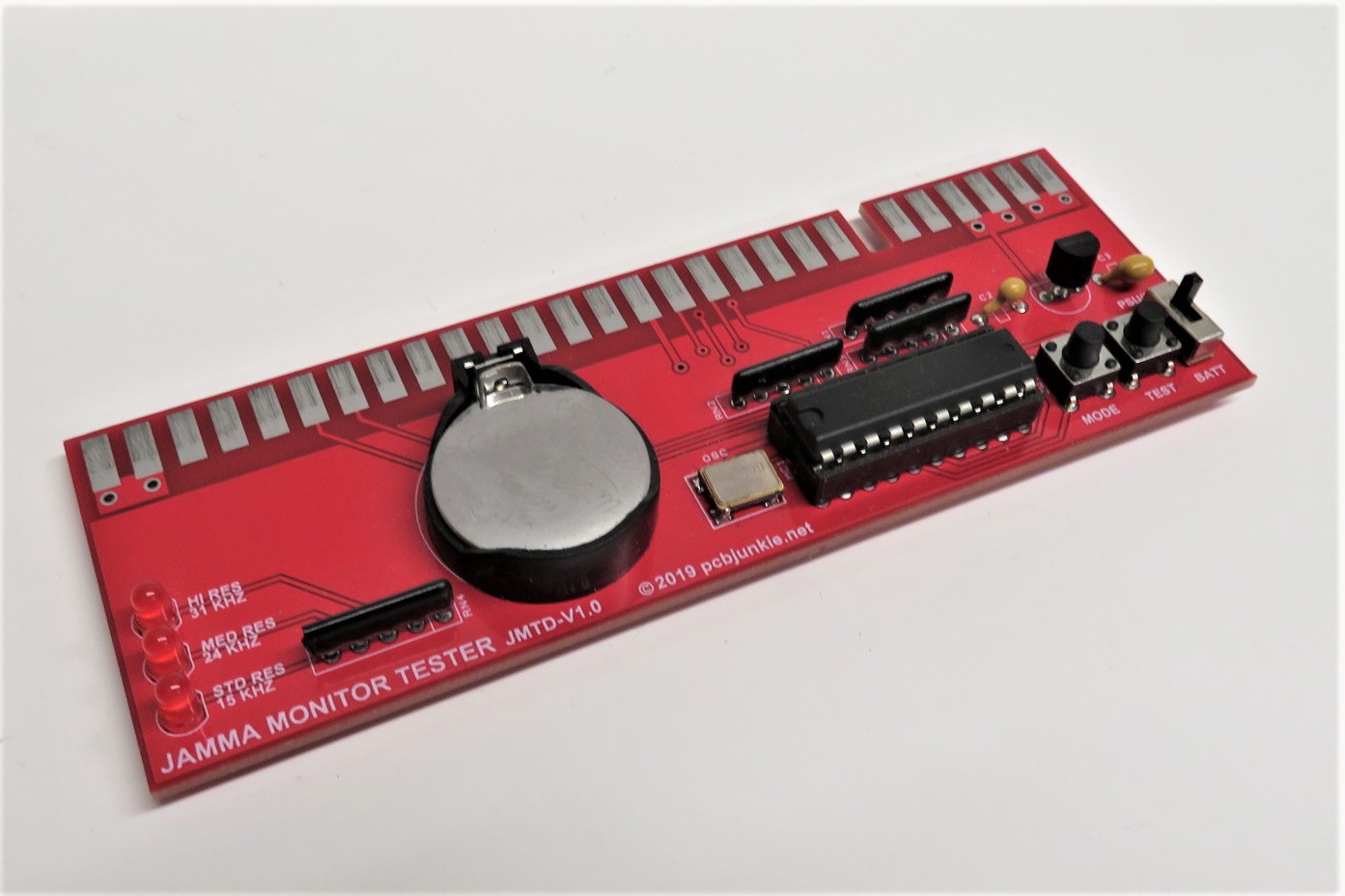 The tester supports the common 15kHz standard arcade resolution, as well as the 24kHz medium resolution and 31kHz high arcade resolution. Only composite negative sync is present.
Here are some of the features of the Arcade Monitor Tester:
Tiny – about the size of a typical JAMMA fingerboard.
Battery Operated – about 5 hours battery life on a CR2032
Supports the following video and sync signals

RGB and SYNC at 3V-pp
Negative CSYNC – typically used (JAMMA standard, etc)
Supports following arcade video modes:

15kHz – standard arcade resolution for most monitors
24kHz – medium resolution arcade video mode
31kHZ – high resolution mode supported by newer chassis
Supports the following tests in each mode:

Checkerboard – for geometry and contrast checks
Grid – for geometry and convergence checks

Color Bars – for color check and adjustment
Solid Color – for burn in and degaussing
Running Color Bars – bloom and color uniformity
Hollow / Filled Box – for bloom artifact check
Text – for raster direction / yoke polarity
Battery life indicator shows battery status through MODE LED.

LED always on – full battery
Duration of on/off cycle indicates battery depletion level
50% off/on blink – nearly dead
To operate the tester, plug the tester into the cabinet's JAMMA harness and either turn on the cabinet to supply the tester with power, or put the switch in the BATT position to power the tester from the internal battery.
Use either the MODE and TEST buttons on the tester, or player one buttons 1 and 2 to cycle through the modes and tests.
Important: Even though the tester is battery powered and isolated from ground, the monitor should always be powered via an isolation transformer. Failure to do so may result in shock or damage to the monitor and tester.
Here are some images of the JAMMA Tester in action.
Here is a guide on how to use to tests to confirm proper operation of a monitor and adjustments.
A video with a lot more information on these testers can also be found below: