This is a battery operated signal generator / tester for CRT and LCD arcade monitor. It is small and light so can be taken on the road or used in your home. Supports a variety of arcade video modes and various syncs allowing it to test virtually all raster arcade monitors out there. Comes with a set of clip probes which should work with most arcade monitors that have post type video input terminals.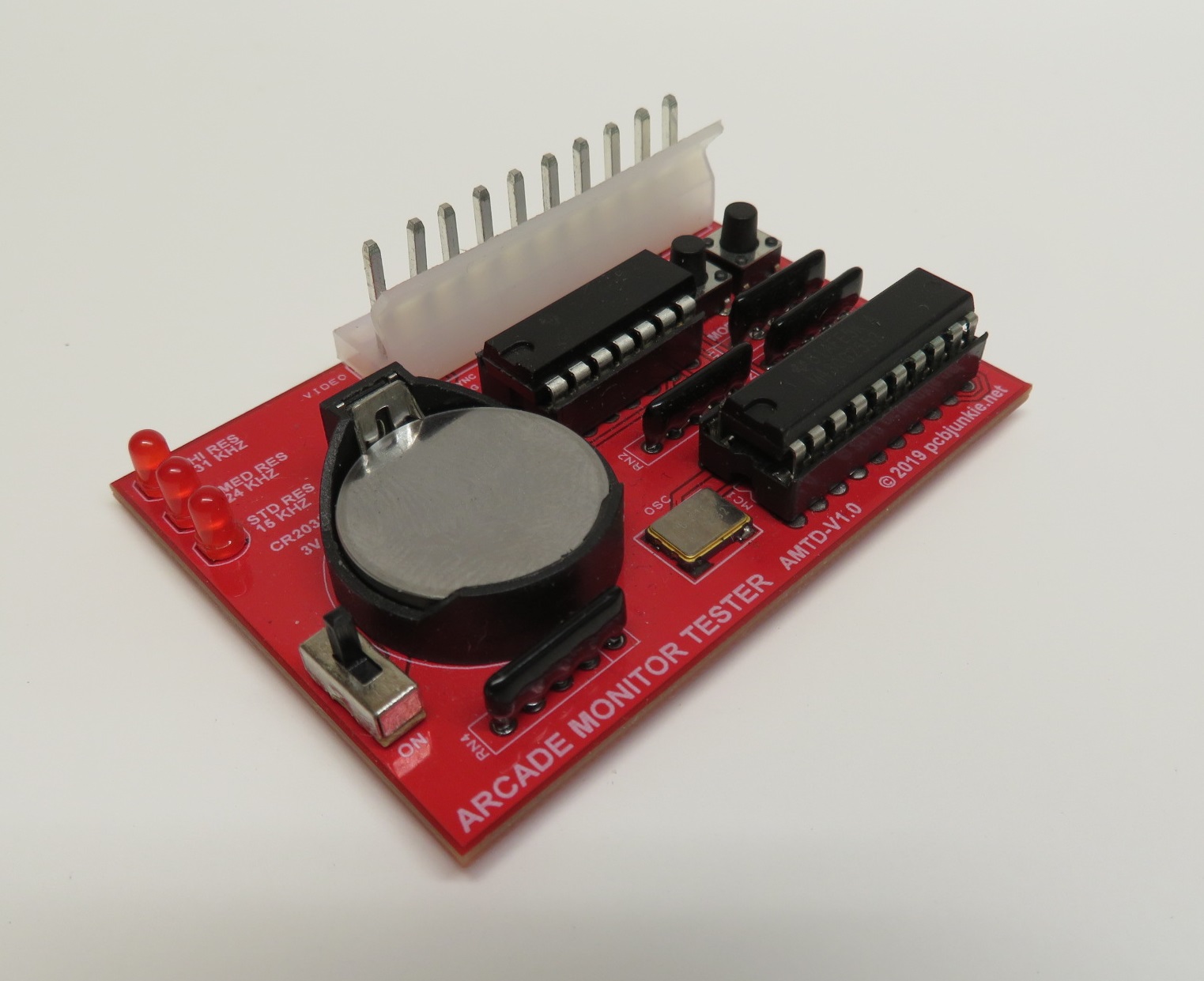 The tester supports the common 15kHz standard arcade resolution, as well as the 24kHz medium resolution and 31kHz high arcade resolution. All possible sync outputs are available, including separate horizontal and vertical syncs, and combined (composite) syncs. Each of these are available with positive and negative polarities for a total of 6 different sync options.
Here are some of the features of the Arcade Monitor Tester:
Tiny – half the size of a credit card and it fits in your pocket
Battery Operated – about 5 hours battery life on a CR2032
Can also be used with rechargeable LIR2032 batteries
Supports the following video and sync signals

RGB and SYNC at 3V-pp
Positive HSYNC
Negative HSYNC
Positive VSYNC
Negative VSYNC
Positive CSYNC
Negative CSYNC – typically used (JAMMA standard, etc)
Supports following arcade video modes:

15kHz – standard arcade resolution for most monitors
24kHz – medium resolution arcade video mode
31kHZ – high resolution mode supported by newer chassis
The following tests are available in each mode:

Firmware Version Text – yoke polarity test
Color Grids Primary Colors – for color check and adjustment
Color Grids Primary and Secondary Colors – for color check and adjustment
Checkerboard – for geometry and convergence checks, white / black level / saturation
Grid – for geometry checks
Convergence Grid –  for convergence checks
Pong – streaking test
Hollow / Filled Box – for bloom artifact check
Moving Crosshairs – geometry distortion check
Vertical Primary Color Bars – for color check and adjustment
Vertical Secondary Color Bars – for color check and adjustment
Vertical Tertiary Color Bars – for color check and adjustment
Scrolling Horizontal Color Bars – bloom and color uniformity
Solid Full Screen White – for burn in and degaussing
Solid Full Screen Red – for burn in and degaussing
Solid Full Screen Green – for burn in and degaussing
Solid Full Screen Blue – for burn in and degaussing
Alternating Color Grid – color transitions / color saturation test
Alternating Full Screen Color – burn in, degaussing, color transitions
Random Color Grid – stability testing, demo mode, etc…
Battery life indicator shows battery status through MODE LED.

LED always on – full battery
Duration of on/off cycle indicates battery depletion level
50% off/on blink – nearly dead
To operate the tester, use the provided RGB+Ground clips to connect the tester to your monitor's input posts. Use the secondary sync plug to select the desired sync signal and connect that probe to the monitor as well. Turn the tester and monitor on.
Important: Even though the tester is battery powered and isolated from ground, the monitor should always be powered via an isolation transformer. Failure to do so may result in electric shock or damage to the monitor and tester.
Press the MODE button to cycle through the available video modes, and TEST to cycle through the tests.
Here are some images of the TV Tester PCB and the tester in action.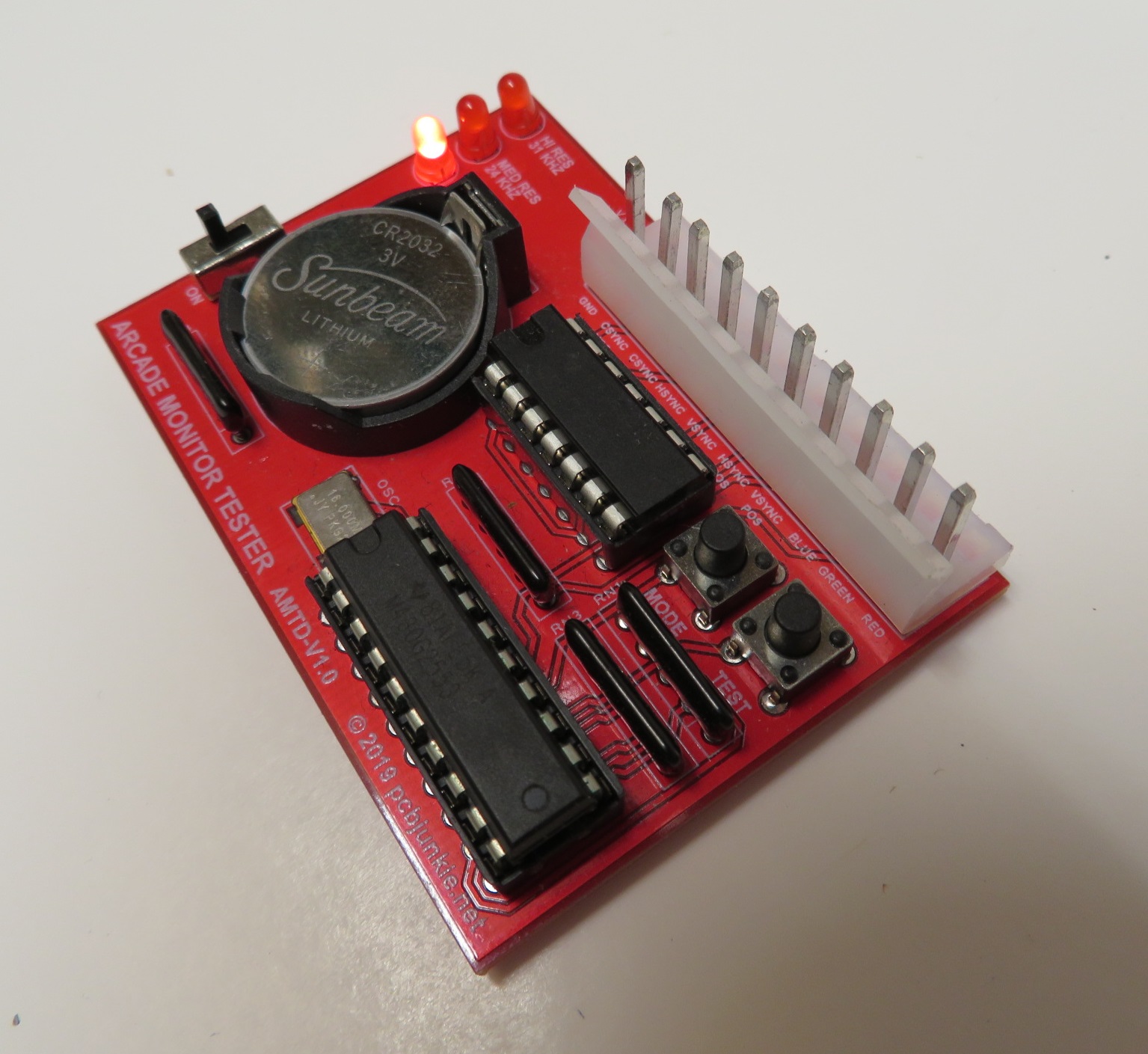 A video with a lot more information on these testers can also be found below:
Here is a guide on how to use to tests to confirm proper operation of a monitor and adjustments.