Description
The JAMMA TestCard allows you to test and troubleshoot a JAMMA cabinet. Simply plug it into your JAMMA harness and you can start testing immediately. Other non-JAMMA cabinets can be tested by adding the appropriate cabinet adapter. The card can be powered from the cabinet power supply or the built-in 3V battery.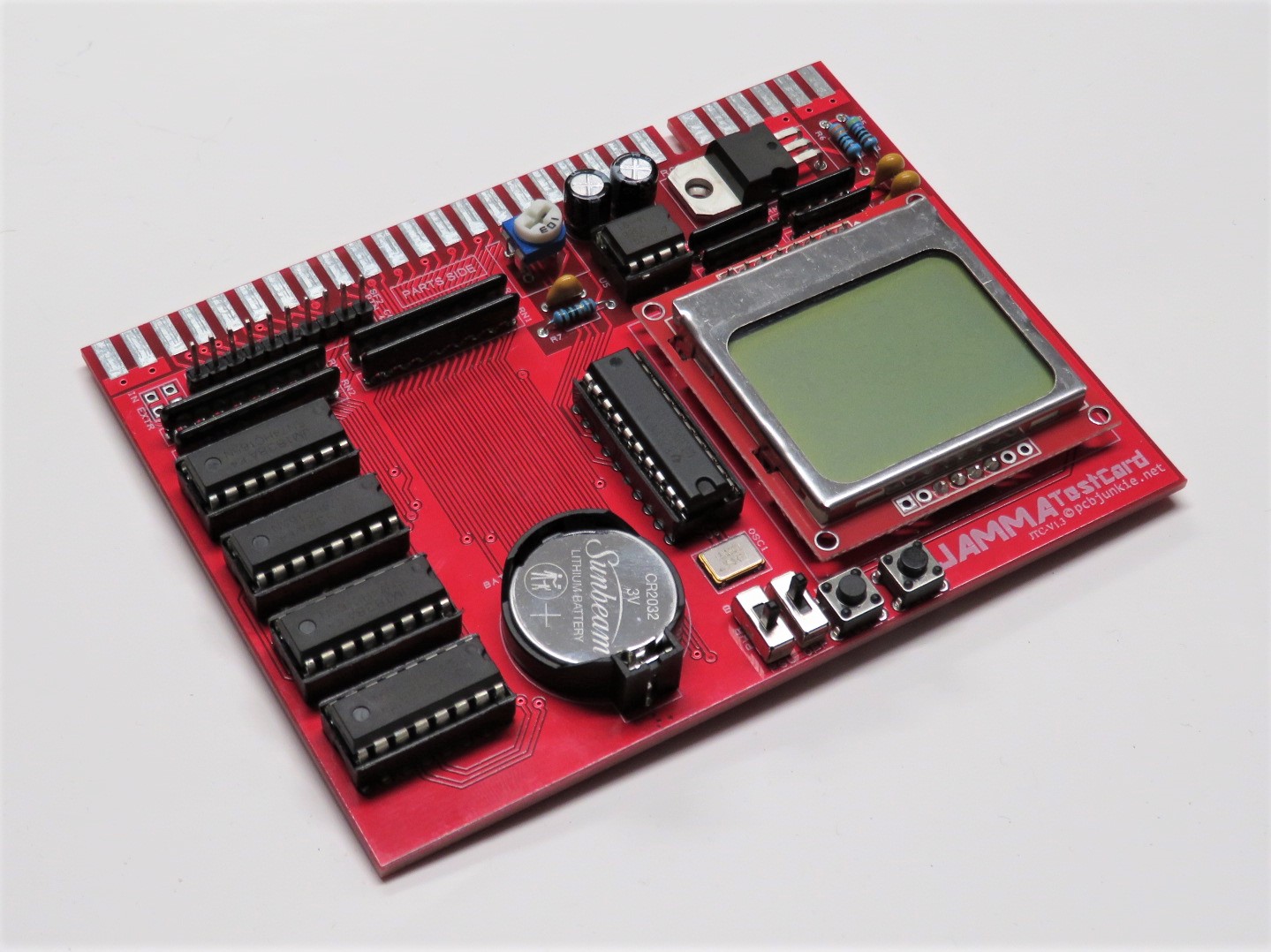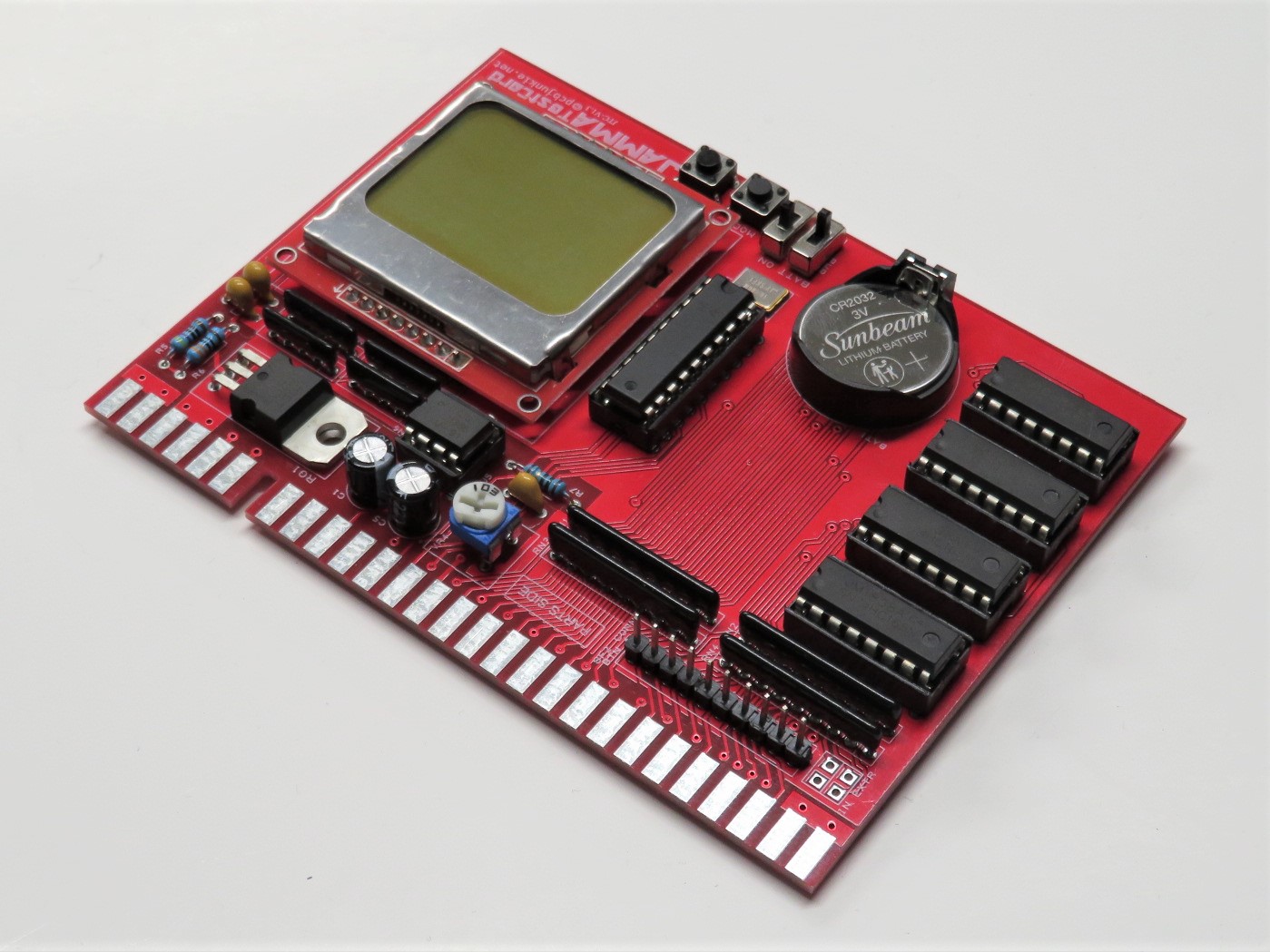 This can come in handy in a number of circumstances, whether you're building your own cabinet and want to test it long before it's fully functional, or you want to test a cabinet in an unknown state before purchase, and don't want to risk testing with with and possibly damaging a real arcade game PCB.
The TestCard can display diagnostic information on either the cabinet monitor, or its own backlit dot matrix LCD screen. This means that the tests can be performed in a cabinet with a dead monitor, a dead power supply, or both.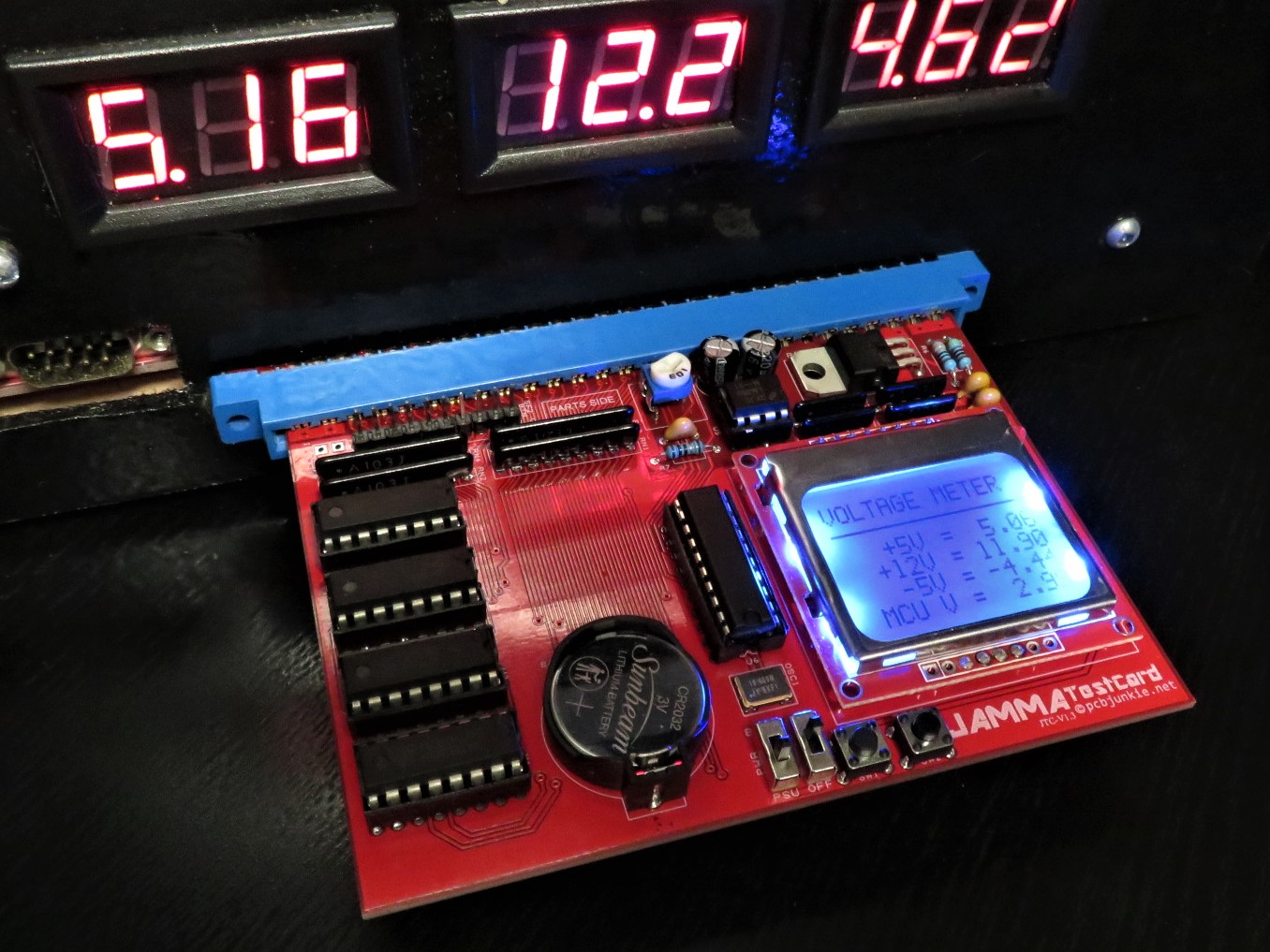 List of Test Functions
Power Supply (Voltages)

+5V Voltage Check
+12V Voltage Check
-5V Voltage Check
Built-In Battery Voltage Check (replace battery below 2.7 volts)

Controls Test

Player 1 and 2 Joystick Directions
Player 1 and 2 Buttons 1-6 (via JAMMA edge or SF2 kick harness)
Player 1 and 2 Start Button

Switch Test

Coin 1 and Coin 2 Switches
Test, Service and Tilt Switches

Monitor Test

Color Bars – Check whether RGB color present and balanced.
Line Grid – Geometry and convergence.
White Box – Burn in and brightness check.

Sound Test

Generate Square Wave – Beep at frequencies from 60Hz to 8KHz
Frequency Sweep – check for damaged speaker or distortion.

Output Functions (NOT AVAILABLE)

Coin Lock Out coils cannot be tested.
Coin Counters can not be tested.
Features
Dual Display:
If the cabinet monitor is dead or malfunctioning, you'll still be able to gather some information on the remaining state of the cabinet by checking the TestCard's built-in backlit LCD display. All functions and feedback are displayed on both the monitor and the LCD. The backlit LCD can be turned on in dark environments, or turned off when not needed or to improve battery life.
Here are some pics of the displays in action:
Battery Powered:
The JAMMA TestCard can be optionally powered by a 3V button battery and will allow you to check the monitor and control switch functionality even if the power supply inside the cabinet is dead.
Built-In Video Game:
A simple breakout style game has been included for some entertainment as a bonus, but it can also be used to test long term stability of the cabinet as you attempt to beat the high score or simply leave it in demo mode.
Easy to Fix:
There are only 6 socketed ICs on the TestCard, the microcontroller and 4 ICs that deal with the inputs and protect the MCU from the dangers of a potentially messed up cabinet. Most of the active components, with the exception of the voltage regulator, are socketed and can be replaced easily if needed.
Test Procedure:
To use the TestCard, plug it directly into cabinet's JAMMA harness, or use a cabinet adapter to test a non-JAMMA cabinet. Leave the TestCard power switch on PSU, and set the LCD backlight switch as desired. The backlight should be off at this point.
Turn the cabinet ON. If nothing shows up on the TestCard's LCD display, it's likely that the cabinet isn't getting power (check plug, fuses, power switch, etc…) or that it has a bad power supply. Only the 5V power rail is required for most tests.
If power can not be restored, switch the TestCard to battery operation by putting the power switch on BATT. Some tests will not be available in this mode. Run Voltage check to see if any voltages are present.
Check whether the monitor is able to display anything, and if not continue to use the LCD display to complete the tests. Press the MODE (or hold Start) and TEST (or hold Button 1) buttons to cycle through the available test modes and troubleshoot as needed.