Description
Allows you to play your JAMMA games in a cabinet wired according to the Konami classic pinout class. This pinout class is compatible with many Konami games during the 1980's. See list below.
Please confirm the pinout in the table below matches the wiring of your cabinet. This is especially important for cabinets that do not have -5V power present, have less than 3 buttons and only one coin switch.
Images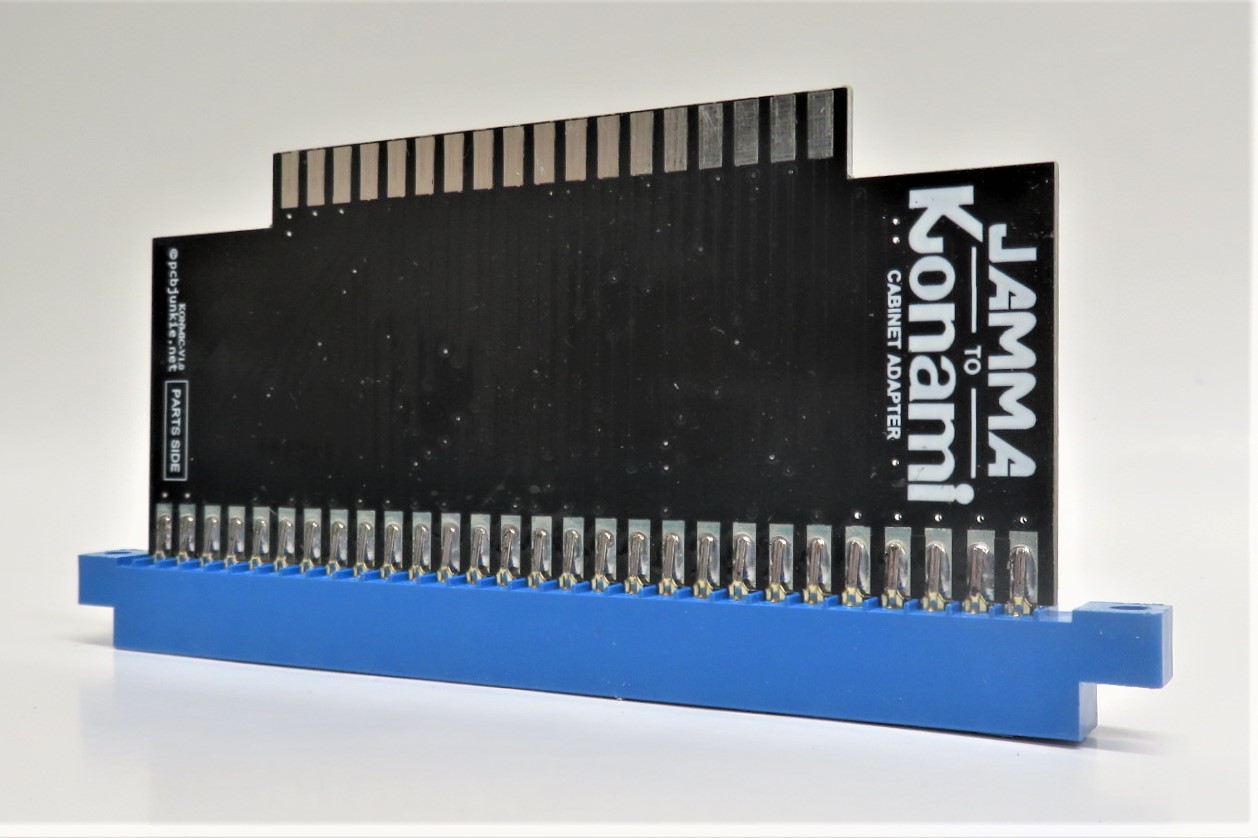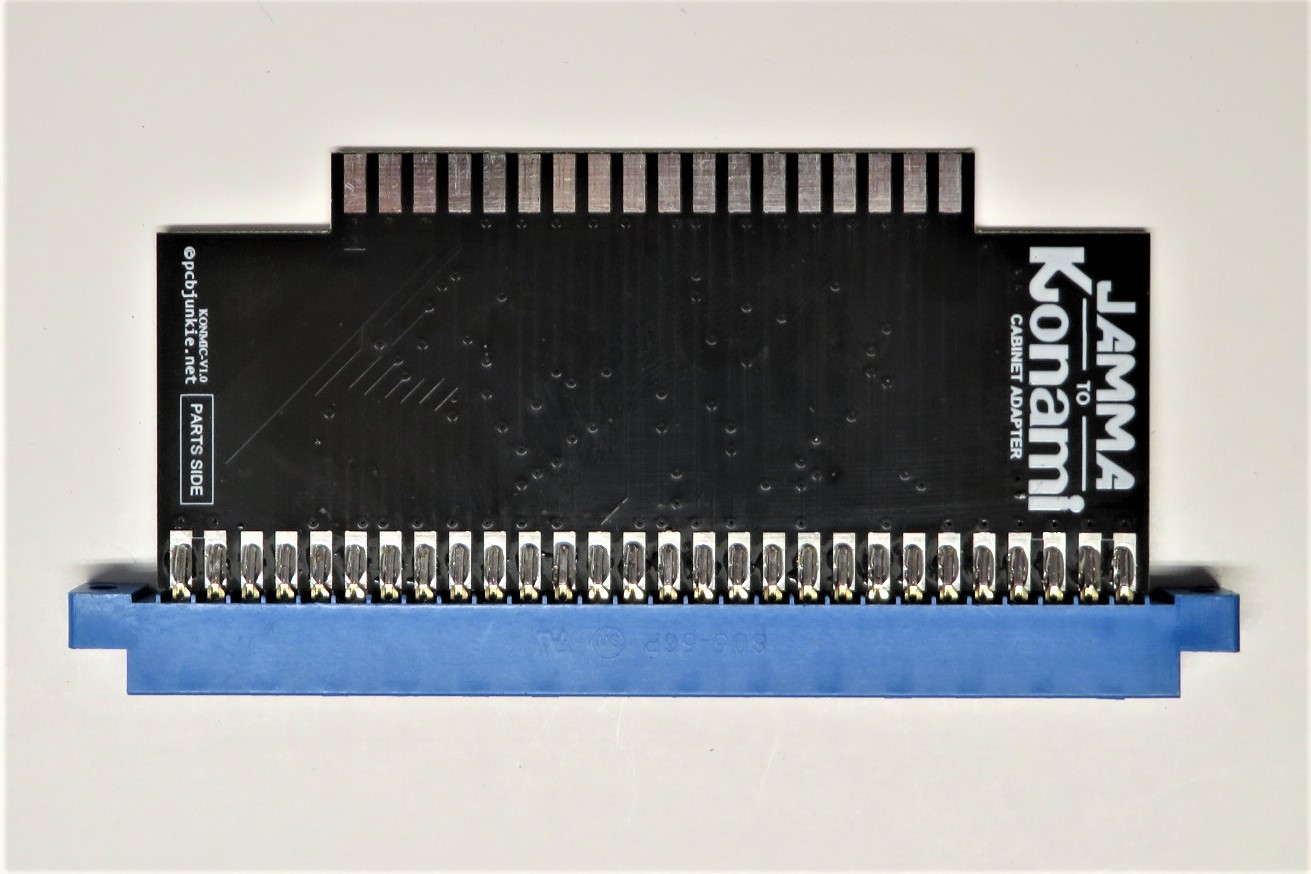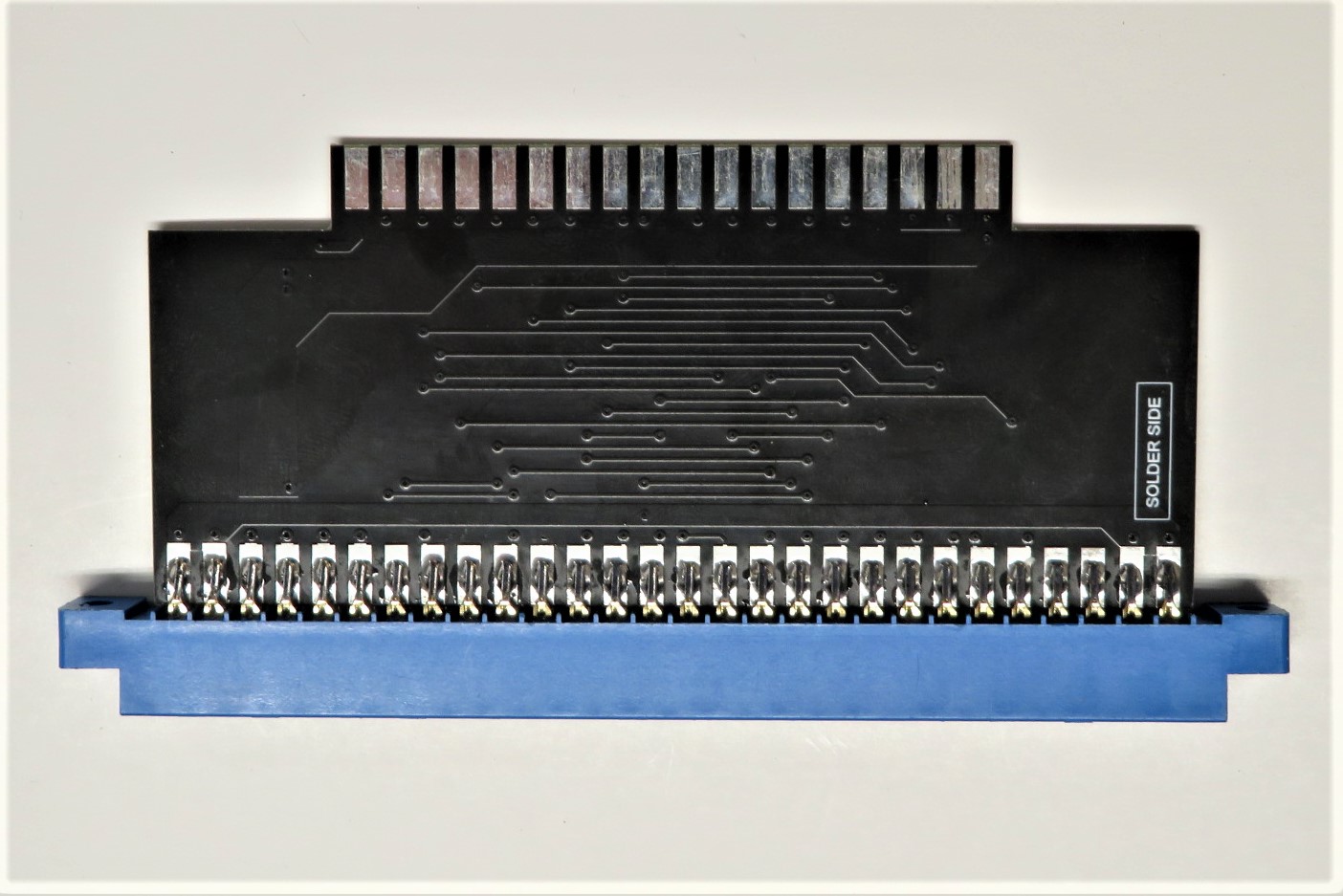 Pinout
This adapter connects to the cabinet according to the following pinout scheme:
| SOLDER SIDE | PARTS SIDE |
| --- | --- |
| -5V* | +12V |
| SPK- | SPK+ |
| P2B2 | P2B1 |
| P2LEFT | P2RIGHT |
| P1START | P2START |
| P1B1 | P2UP |
| P1B2 | SVC |
| P1RIGHT | P1LEFT |
| P1UP | P2DOWN |
| COIN1 | COIN2 |
| P1DOWN | COUNT1 |
| P1B3 | COUNT2 |
| VGREEN | VBLUE |
| VRED | VSYNC |
| NC | P2B3 |
| GND | GND |
| GND | GND |
| +5V | +5V |
(Adapter edge connector facing away, list is ordered right to left)
Button and Switch Layout:
In most circumstances this adapter will work as intended with your cabinet without any modifications. Problems may occur playing some JAMMA games in a modified cabinet with less than 3 buttons, or only one coin switch present.
If the button order is wrong you may need to swap the wires going to the buttons behind the control panel. If a button doesn't register at all, say only JAMMA button 2 and 3 work, you may need to run a jumper from button 3 to button 1 at the cabinet wire harness edge connector.
If game can't be coined up, say in a case where only COIN2 switch is wired in the cabinet, and the game only supports the COIN1 switch, you may need to swap the coin wires on the harness or potentially jumper them together to get the game to coin up.
Voltages
For JAMMA games that require the -5V power, please check if the cabinet has a power supply capable of producing it and that it's wired correctly according to the pinout above.
Compatible Games
This is the list of compatible games that can be used with this adapter:
Revision History:
Rev 1.0: Initial currently available version.
Specifications:
Board Size: 45mm x 112mm
Current Carrying Capacity: 5V – 12A, 12V-3A