Description
Allows you to use your Pandora Box, Game Elf or similar multi game boards with the CHAMMA pinout, in a JAMMA 6 button cabinet.
CHAMMA (Chinese JAMMA) is a 6 button per player JAMMA pinout variant that has buttons 5 and 6 on pin 26, 27, 54, 55 of the 56 pin edge connector.
This is incompatible with the JAMMA standard due to pin 27 and 55 being wired to ground, and pin 26 and 55 typically unused. All 6 button JAMMA cabinets must therefore supply an additional wire harness for buttons 4-6 to remain fully compatible with the JAMMA standard.
This adapter can be used to connect multi game boards that use the CHAMMA standard to the existing wiring in the most popular 6 button JAMMA cabinets. Button 4-6 harness headers are included for cabinets such as Street Fighter 2, Mortal Kombat 1, Mortal Kombat 2+ and Killer Instinct.
Images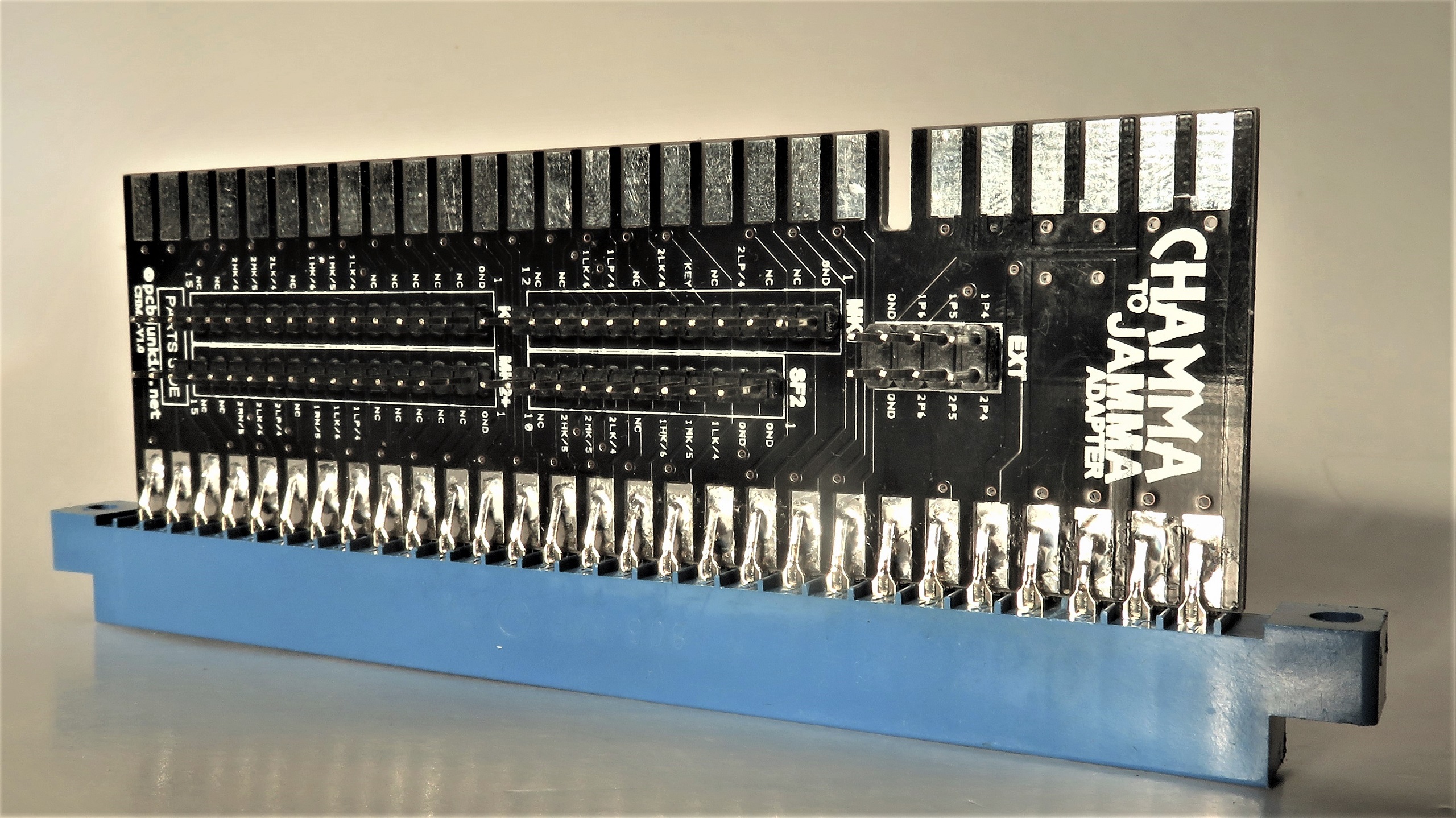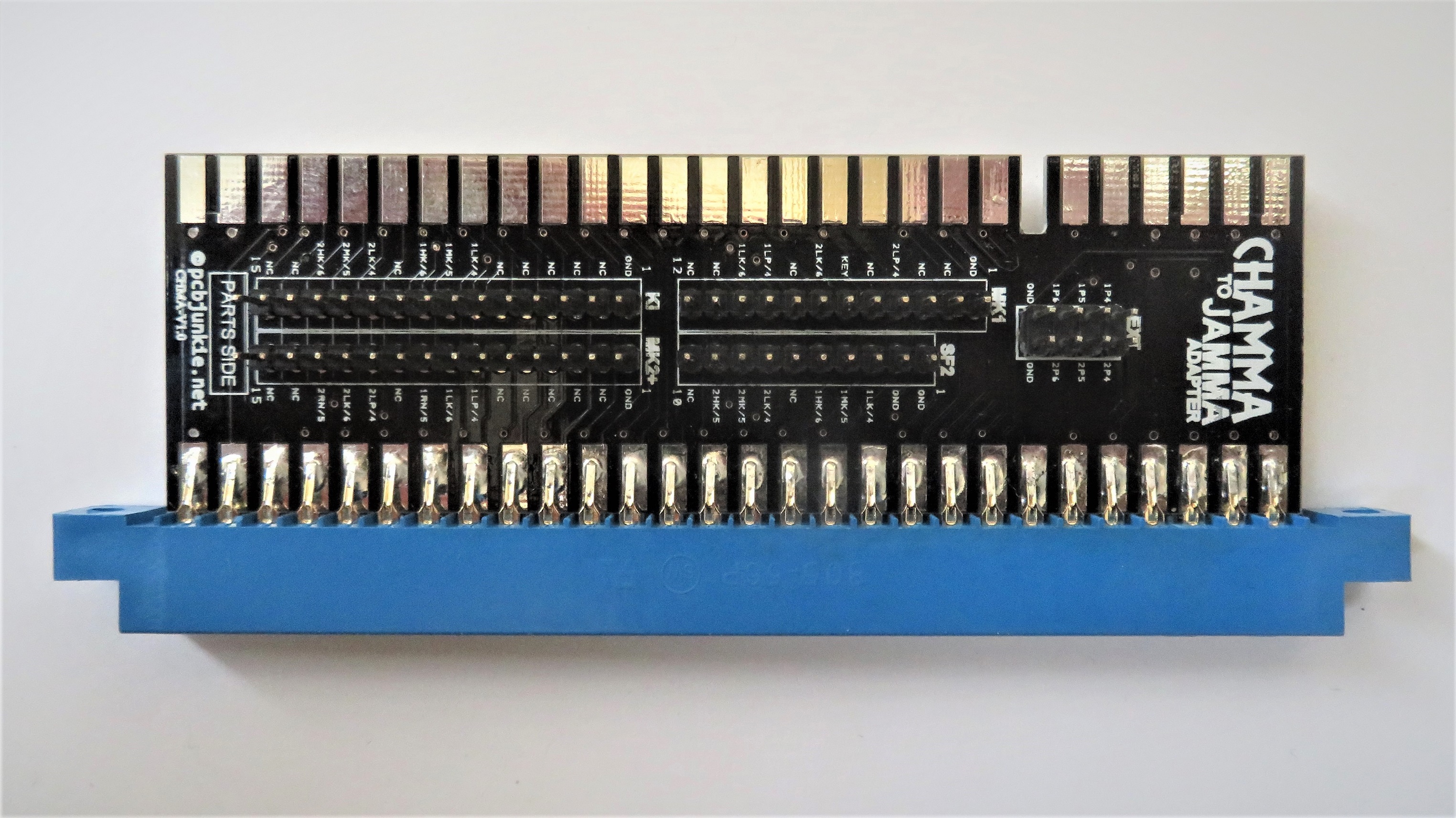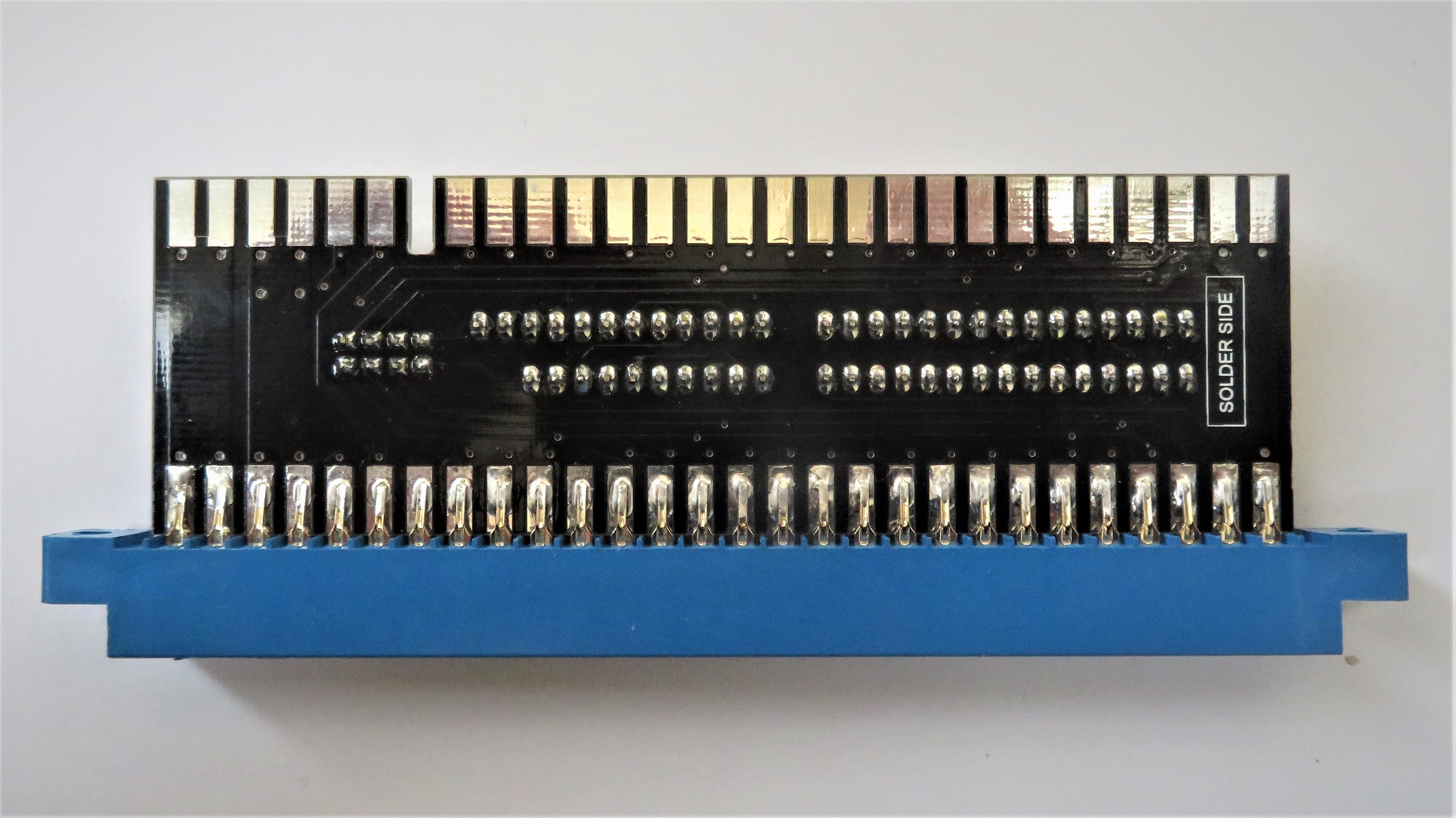 Pinout
This adapter follows the following pinout scheme:
Edge Connector
(PCB edge connector facing away, list is ordered right to left)
Street Fighter Harness
Mortal Kombat I Harness
Killer Instinct Harness
Mortal Kombat II+ Harness
(PCB edge connector facing away, list is ordered right to left)
Compatibility:
The adapter has been tested with a Game Elf and Pandora game boards.
Some compromises had to be made in order to allow for the best possible game experience in 5 or 6 button Mortal Kombat cabinets. In 5 button Mortal Kombat cabinets, CHAMMA button 5 (SF2 medium kick) is unavailable and CHAMMA button 6 is mapped to cabinet's low kick. In Mortal Kombat 6 button cabinets with a run button, the run button is mapped to CHAMMA button 5. This configuration is the closest to a Street Fighter 2 button layout.
However, on Pandora Box boards, Mortal Kombat (the only MK game) uses button 5 as low kick and button 6 as block, so the game will not have the correct button layout in any of the cabinets used. Please keep this in mind if playing a choppy version of MK1 is important to you. The newest multi game boards have a button remapping feature which overcome this issue.
As always, before ordering and connecting your board, please check and verify the pinout information below.
Revision History:
Rev 1.0: Initial Design.
Specifications
Board Size: 30mm x 112mm
Current Carrying Capacity: 5V – 12A, 12V-3A, -5V – 3A